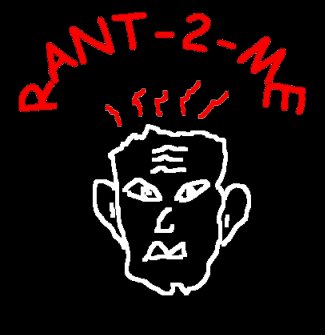 If you are easily offended or under 18 please click back on your browsers. Rant2Me is not responsible for any user submitted information on this site. This page is still under major construction!
READ WHAT RANTS OTHER PEOPLE HAVE- THEN POST YOUR OWN!
***A GREAT WAY TO RELIEVE STRESS***
***Silly Or Serious- You've Found A Place That Will Hear You***

Look At The Most Recent Rants:

&nbsp

Rant2Me is a member of the WyccoRing- please visit the WyccoRing/ShamuCroaks Forum:
http://www.xsorbit.com/users/shamu/index.cgi

&nbsp
THE STORE IS OPEN
&nbsp
Sorry- I have to add this to make this page legal...
By Visiting this page you are agreeing to the following statement:
I agree that I am not offended by any material on this page, I am over the age of 18, and I shall provide no false information to http://rant2me.tripod.com . I understand that the author of this page makes no guarentees to post my comments; I give the author full copyright ownership to my rants. The author of this page may use the rants in anyway he wishes, he may edit them, delete them, publish them, sell them, or do anything he wishes to them. Rant2Me claims no responsiblity for any content on this page. Submitting your name, email address or any other information is done so at your own will. You agree not to defame, or post any illegal content, nor will you write anything hatefull. Rant2Me does not necessarily agree with any/all the content published by individual users. All coments are the expressed opinions of those individuals only. It is against the rules of the page to post any telephone numbers or addresses, other than a contact e-mail address. Rant2Me is not responsible for any links provided and is not associated with them in any form or fashion.